Have you ever been on a boat ride where the battery ran out and you had to wait for a long time for another boat to come and jump-start yours? Such circumstances are a thing of the past now. All you need with you is the best boat jump starter and you'll have your boat running again within minutes – if not seconds.
In this article, we'll be discussing everything there is to know about the best portable jump starter for boats. I will also list and compare it with its alternatives and provide all the information you'll need before you make a purchase decision. This information also includes features to look out for when choosing a jump starter for boats.
Let's dive in!
Our pick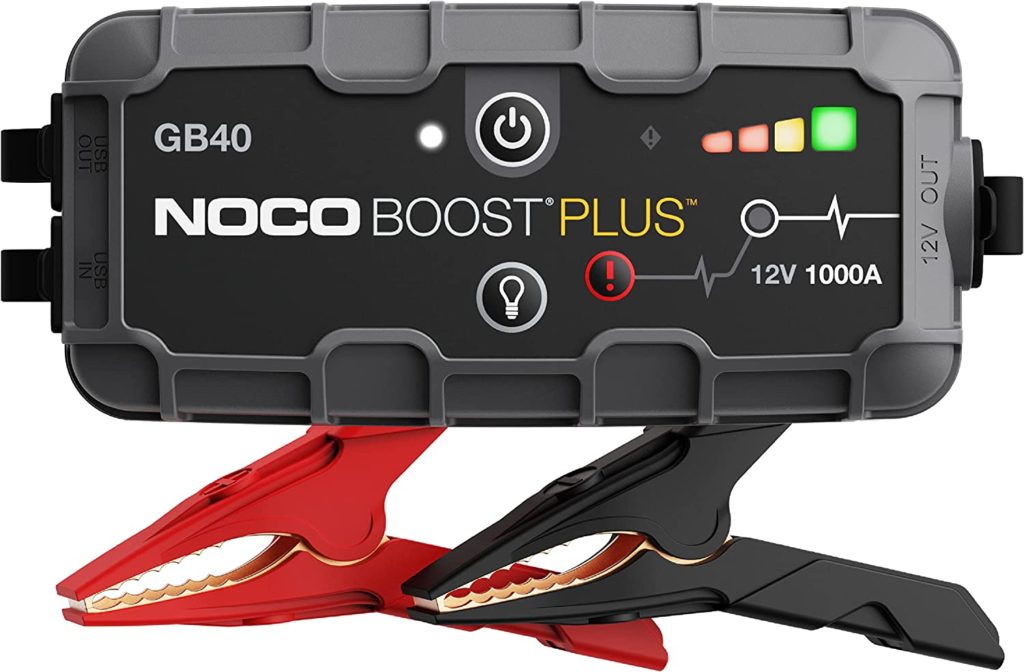 NOCO Boost Plus GB40
Best Portable Jump Starters for Boat
The NOCO Boost Plus GB40, by NOCO, is the best boat jump starter in terms of overall features and functions. Its peak amps equal 1,000, which is significantly more than the average 400 to 600 amps found in most jumpers.
This lithium jump starter for boats has IP65 water resistance. This means that its seal can protect the device and withstand the pressure of being submerged in water. Splashes, sprays, and even water jets won't do the jumper any harm.
Read the full review
.
What To Look for When Choosing a Boat Battery Jump Starter?
There are a few things you should remember and keep a lookout for when choosing a boat battery jump starter. Let's take a look at what they entail:
Type of Boat Jump Starter
There's a lithium jump starter for boats and a lead-acid one. This review contains only lithium-ion starters because they're more suitable for boats. The reason behind this is that they are lightweight, making them easier to carry.
Moreover, lithium-ion marine battery jump starters last ten times longer and are relatively more efficient and more powerful than traditional starters. And if longevity is an important factor for you then the lithium-ion option will leave you impressed.
While a lead-acid-based jumper will likely lose its ability to function after it has been in storage for three to six months, the lithium-ion-based jumper will give you about two years. All of these features combined make lithium jump starters an excellent option for boating applications.
Power of Jump Starters for Boat
How much peak and cranking power a jump starter can deliver is another essential factor to consider. While it depends on your specific needs and the boat's battery type, you should predetermine the estimated peak power you'll need from your battery.
Peak power is the maximum power a jumper can deliver. On the other hand, there's cranking power, which refers to the number of amps that can be delivered when additional cranking is needed. Most modern jumpers provide an average of 400 amps of cranking power.
USB Ports and Charging Outlets
The USB charging feature is typically found on relatively smaller lithium-ion units. However, you might find a few larger jump boxes with this function as well. This will come in handy when your laptop, tablet, or smartphone is running out of battery during one of your trips.
If you have a 12V lighter port in your vehicle, you can turn your jumper into a temporary charger. Some of the larger boxes, in addition to the 12V charger plugs, also come with traditional electrical outlets. You can use these power sources for camping or tailgating.
Safety Features
Since batteries contain electricity, there's an increased risk of fire, battery damage, and injury. So, when you're considering a portable jump starter, you should consider the safety features it offers. For example, the jumper you've picked could have Short Circuit Protection (SCP).
SCP will ensure that the powerful current doesn't pass from positive to negative clamps when they're unexpectedly touched together. The following are some other safety features to look out for:
Overcharge Protection: "float" charges the unit when the batteries are full and keeps excess voltage from passing to the cells.
Over-Voltage Protection: Stops the jump pack from receiving more than the specified voltage while charging.
Overload Protection: will not allow the jump pack to receive more than the specified current while charging.
Over-Current Protection Makes sure there's no damage to the jumper by preventing it from supplying more than the peak limit of current.
Durability and Waterproof
The materials used and the overall design of the jump starter are two of the primary giveaways in terms of the product's durability. If the jumper is made of plastic, it likely won't be as durable. However, more durable materials, such as metal, can be heavier.
Your focus should be on finding a jumper that's both sturdy and lightweight. And it'll also be great if it's waterproof. After all, a boat's battery might get wet, right?
Best Portable Jump Starters for Boat – Reviews
Jump to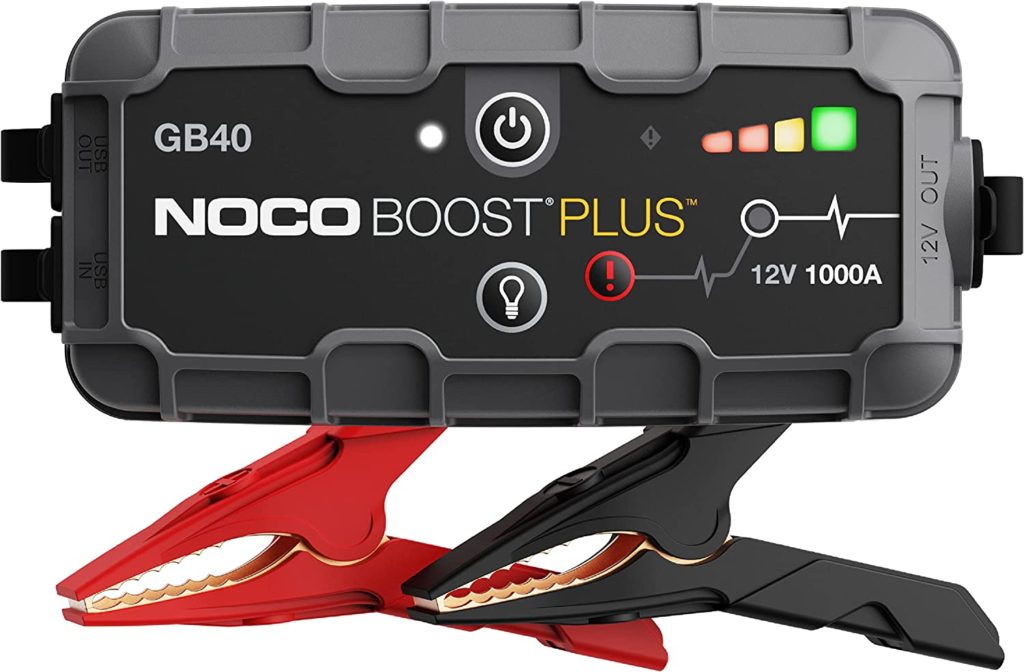 NOCO has been around since 1914 and has become quite popular for its premium-class jumpers, battery chargers, batteries, and various accessories.
The NOCO Boost Plus GB40, by NOCO, is the best boat jump starter in terms of overall features and functions. Its peak amps equal 1,000, which is significantly more than the average 400 to 600 amps found in most jumpers.
This lithium jump starter for boats has IP65 water resistance. This means that its seal can protect the device and withstand the pressure of being submerged in water. Splashes, sprays, and even water jets won't do the jumper any harm.
The model can also hook up to any battery since it boasts a patented safety technology with spark-proof connections and reverse polarity protection. The product was specifically designed for boats with gas engines up to six liters and diesel engines up to 3 liters.
You can use it as a power source for about 4 different USB gadgets at once. Moreover, its ultra-bright 100-lumen LED flashlight comes with 7 different light modes. These modes include emergency strobe as well as SOS.
This jump starter is also quite versatile. You can use it for your boat, lawnmower, truck, car, and other vehicles.
In terms of peak amps, this model lies in the middle of the two other products in this review. However, in terms of all other specs and features, this model offers excellent value for money.
In my personal experience, I've found that this jumper is super handy and efficient and works as well as the jumpers I've seen professionals using. I was pleasantly surprised when it jump-started my frozen battery and would recommend it to everyone with a vehicle that has a battery with up to 1,000 cold cranking amps [CCA].
Overall, the NOCO Boost Plus GB40 is the best portable jump starter for boats in the market. It has all the convenient extras that you might require on board and it's safe, robust, and reliable.
Pros
It has a super-bright flashlight
The model is user-friendly and safe
You can use it for numerous vehicles and devices
It is portable yet extremely powerful
Cons
The storage capacity for powering other devices is low
Vekkia – best budget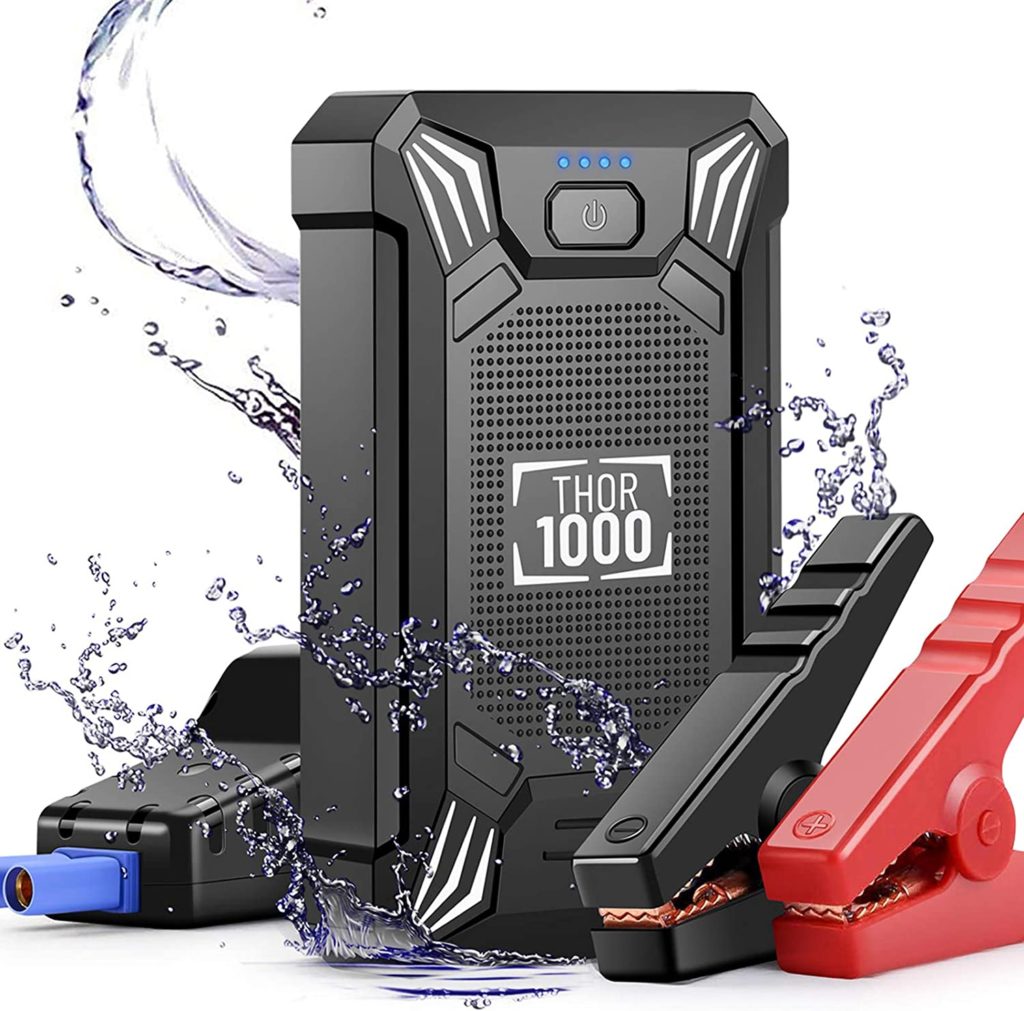 If you're always on the go and don't want to lug around your entire jumper cables then perhaps this option will be perfect for you. It's so compact and lightweight that you can even keep it in your pocket.
Vekkia is an excellent choice to consider if you're looking for a budget-friendly lithium-ion jumper for your boat. The jumper has 600 peak amps, which is sufficient for typical small boats. Moreover, its IP66 water resistance capabilities protect the device from high-pressure, multi-directional water jets.
Its intelligent safety system includes factory settings for overheating, short circuit suppression/prevention, and overvoltage protection. And with its 8,600mAh power bank will charge your gadgets on the go.
You can also use this battery booster instead of a flashlight. It comes with 3 different modes, including SOS, fast flashing, and steady on.
Vekkia has the least peak amps; 600, compared to both NOCO and HULKMAN. However, it also has better water resistance out of the three options and it's also the most budget-friendly.
It'll prove to be the handy peace of mind you need on your trips by the water. I used it not once but multiple times during one of my unfortunate trips and this jumper saved me every single time.
Vekkia, with its budget-friendly price and sleek design, is an excellent option to consider for those looking for an economical and more portable option.
Pros
It's small and lightweight
Its water resistance is superior to most other jumpers
The jumper includes an intelligent protection system
The LED flashlight is sufficiently bright
Cons
You might lose its pieces as there's no carrying bag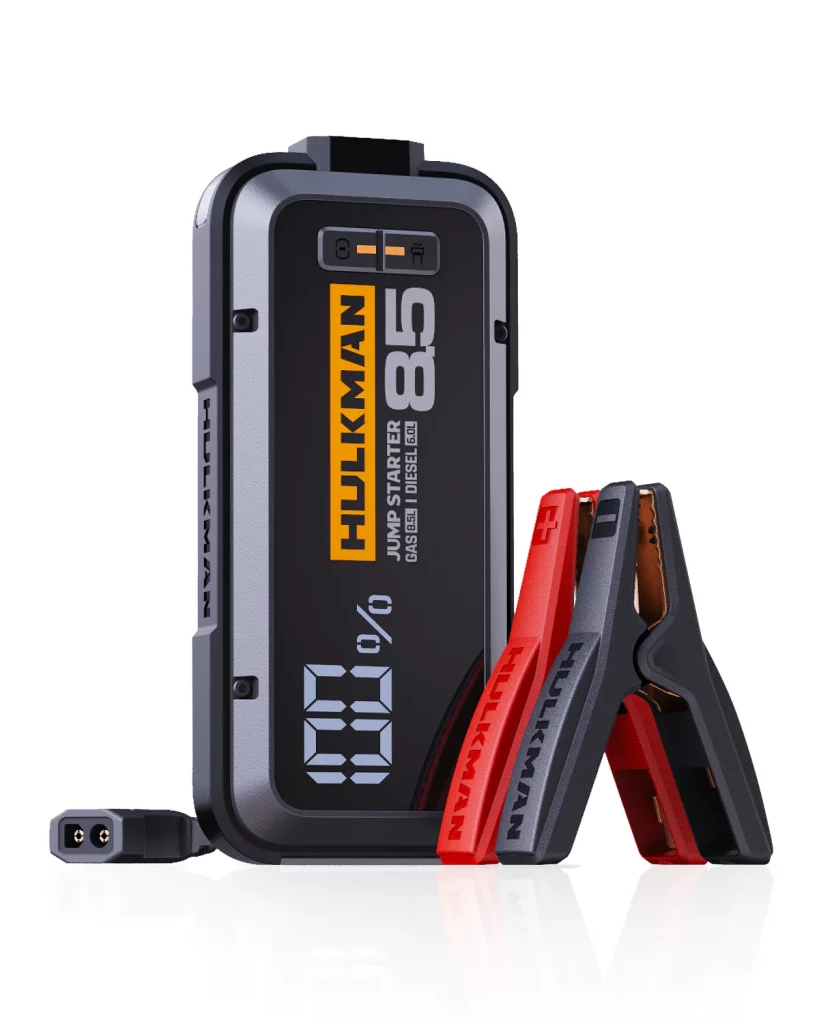 This starter falls under the same category as some of the most powerful boat jump starters. With this by your side, you will never be stranded by the water or face any boat battery problems.
The HULKMAN Alpha85 starter features whopping 2,000 peak amps, which is greater than the previous two models in this review. Moreover, like the NOCO GB40, this lithium-ion model has IP65 water resistance.
While it's very compact, this HULKMAN product is still extremely powerful. You can start up any 12V vehicle with up to 8.5 liters of gas or 6 liters of diesel. On a single charge, this jumper can provide about 60 jump starts, which is more than its rivals can offer.
Sparks, incorrect operations and other such issues will be kept at bay with this device's efficient safety system. The model automatically gets ready for the boost after identifying battery connections. Furthermore, thanks to its 12V DC, USB-C, and USB-A ports, you can charge several gadgets when on board.
Like the Vekkia jumper, this model also has a built-in flashlight with three different modes; SOS, strobe, and high power. The addition of jumper cables to this product pack will also enable you to help others charge their vehicles when needed.
The HULKMAN jumper is the most powerful out of the three options in this review, with 2,000 peak amps. Its water resistance capabilities are less than Vekkia but similar to the NOCO GB40.
I found this powerful jump starter to be quite portable. You can place it with your tool kit and use it on the go. The jumper comes with an 18-month battery life and 65kW of fast charging for a rapid jump start. When I first opened this starter, it had a 50% charge.
Charging it to about 90% took a little less than an hour and charging it from 20% to 100% took approximately 2 hours. I also left it on charge after it was already fully charged and there was no damage to the battery.
Although you might confuse HULKMAN Alpha85 for a premium-priced marine battery jump starter, it's a very economical option in the market. It is compact, powerful, and reliable; there's no reason for anyone to not love this option. It's the best boat jump starter for those not on a tight budget.
Pros
The battery capacity is quite impressive
This jumper is powerful and fast
It takes a little over an hour to charge
The jumper includes 400 Lumen LED light
Cons
The surface of the jump starter can be slippery
FAQs
Can you recharge a boat battery with a jump starter?
You can't charge a boat battery with a jump starter. The primary purpose of a battery booster is to provide an immediate powerful current flow to start the battery. After this, the boat's alternator will charge the battery. These devices are not programmed to provide unlimited power.
Can a boat battery be too dead to jump-start?
It's almost impossible to find a battery that is too dead to jump-start. Since they contain explicit chemical elements, they can't stop working without a warning. The chemical reactions can't be stopped suddenly. Alternately, it's a sign of a much bigger problem if you're facing consistent battery failure. Therefore, if you're using your jump starter every single time you want to start your boat, it'll be better to seek professional help.