As an avid fisherman, I understand the importance of having a comfortable seat while fishing. If you're out on the water for hours, it can be uncomfortable sitting in the same spot without proper support. That's why I've taken some time to research and compile information about the best fishing boat seats available so that other anglers can make informed decisions when picking out their own.
I've considered comfort, cost, and adjustability in my research so that you can find the ideal seat for your needs and budget. Read on to learn more about the best seats for a fishing boat out there!
Our fav!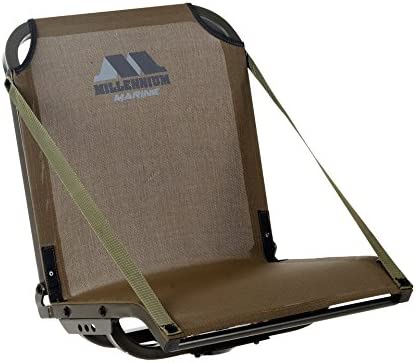 Millennium Marine B100 Boat Seat
Best Fishing Boat Seats
If you're looking for seats for duck boat then the Millennium Marine B100 Boat Seat is designed for that. It has a special fabric that is tight and breathable.
Read the full review
.
How to choose a boat seat for fishing?
When choosing a boat seat for fishing, there are a few key factors to consider:
Type of Seat
Standard fold-down seats are often the most affordable, but may not offer the same level of comfort as other styles. For example, pedestal-style seats can provide more stability and can be adjusted to different heights.
Some pedestal models even come with armrests and backrests for added comfort. More specialized designs like flip-up seats, bucket seats, and leaning posts can provide even more support and maybe a better option if you plan on spending long days out on the water.
High back fishing boat seats are also recommended for people who are tall as they need a support to sit for long hours during fishing. Camo boat seats can also be a good choice as they help your blend into the environment more effectively while on the water.
Materials
The material of the seat you choose to buy plays an important role in the seat's longetivity. For example, vinyl-covered foam seats are both comfortable and durable, but may not be as breathable as mesh or fabric options. It's important to find a material that won't cause you to overheat in the summer months and provides enough cushioning for those long days of fishing.
Personal Preferences and Needs
Personal preferences and needs are important considerations when evaluating the best boat seats for fishing. Anglers should consider how they plan to use their seat, how much time they expect to spend sitting in it, as well as any potential medical issues that may require special features.
For example, back support may be necessary if you suffer from lower back pain. While for those who plan to fish in colder climates, heated seats can provide added comfort.
Weight and Capacity
Finally, you'll want to consider the weight and capacity of the seat. If you plan on spending long days out on the water, make sure that your seat can safely hold your weight without tipping over or sinking. Additionally, look for seats that are easy to install and come with all the necessary mounting hardware.
Best Fishing Boat Seats Reviews
That for, we've come up with a detailed review of seats available out there. Our 5 top picks are as follows: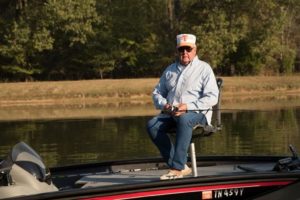 If you're looking for seats for duck boat then the Millennium Marine B100 Boat Seat is designed for that. It has a special fabric that is tight and breathable. The fabric is also resistant to UV rays, bad weather, mold, and mildew. This means you can stay comfortable no matter how long you fish or what the weather is like.
Compared to other boat seats on the market, this one excels in terms of comfort, adjustability, weight capacity, and affordability – making it one of my top picks for serious fishermen!
This boat seat is very strong, but it only weighs 7 pounds! It is made with all-aluminum construction to handle up to 400 lbs. of weight. The adjustable lumbar support and ergonomic shape make it more comfortable than other seats.
B100 model is amongst the most appreciated seats for flats boat, as it folds down flatter than any competitor, so you can have an improved view while cruising along. You can mount the seat onto any pedestal, so you can take your comfort with you wherever your next voyage leads!
I liked how light this seat is. It's perfect for carrying on fishing trips! The lumbar support can be adjusted to make it more comfortable to sit in for long periods while still providing good visibility when the seat is folded down. If you're looking for a new boat seat, this should be one of the first ones you consider!
Pros
The seat strikes the perfect balance between comfort and convenience with an adjustable angle and backrest.
Doesn't get hot like other seats in the market.
The mesh material makes it dry and cool.
Installing the seat is incredibly easy and it fits snugly into a standard boat seat's bolt pattern.
Cons
Not recommended for people who like padded seats.
---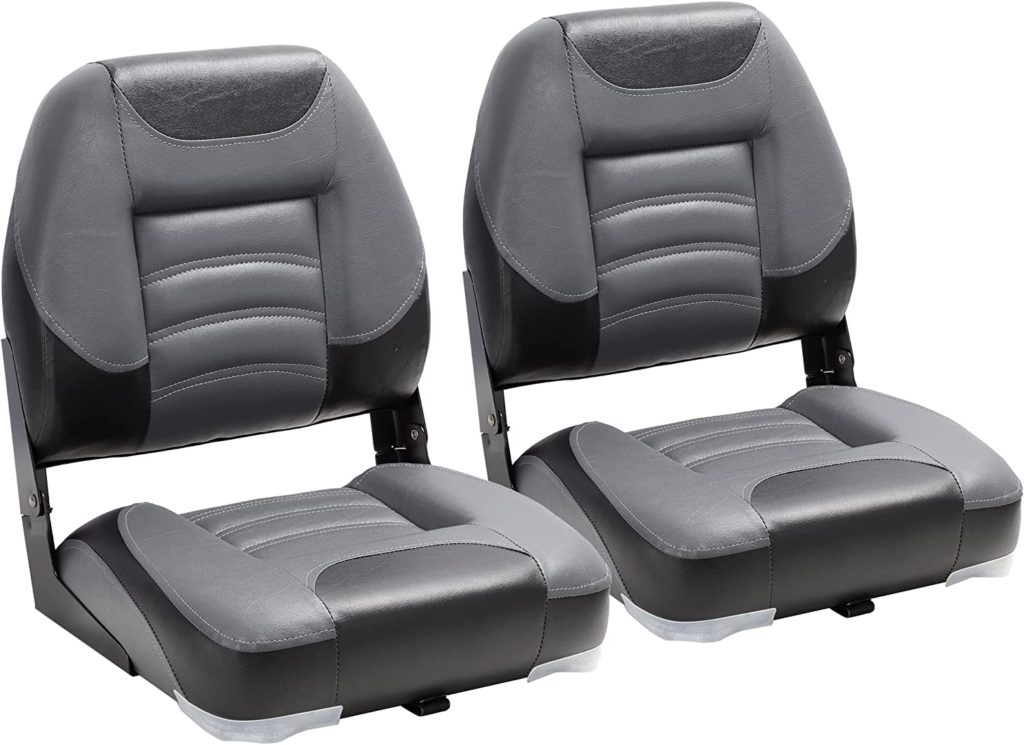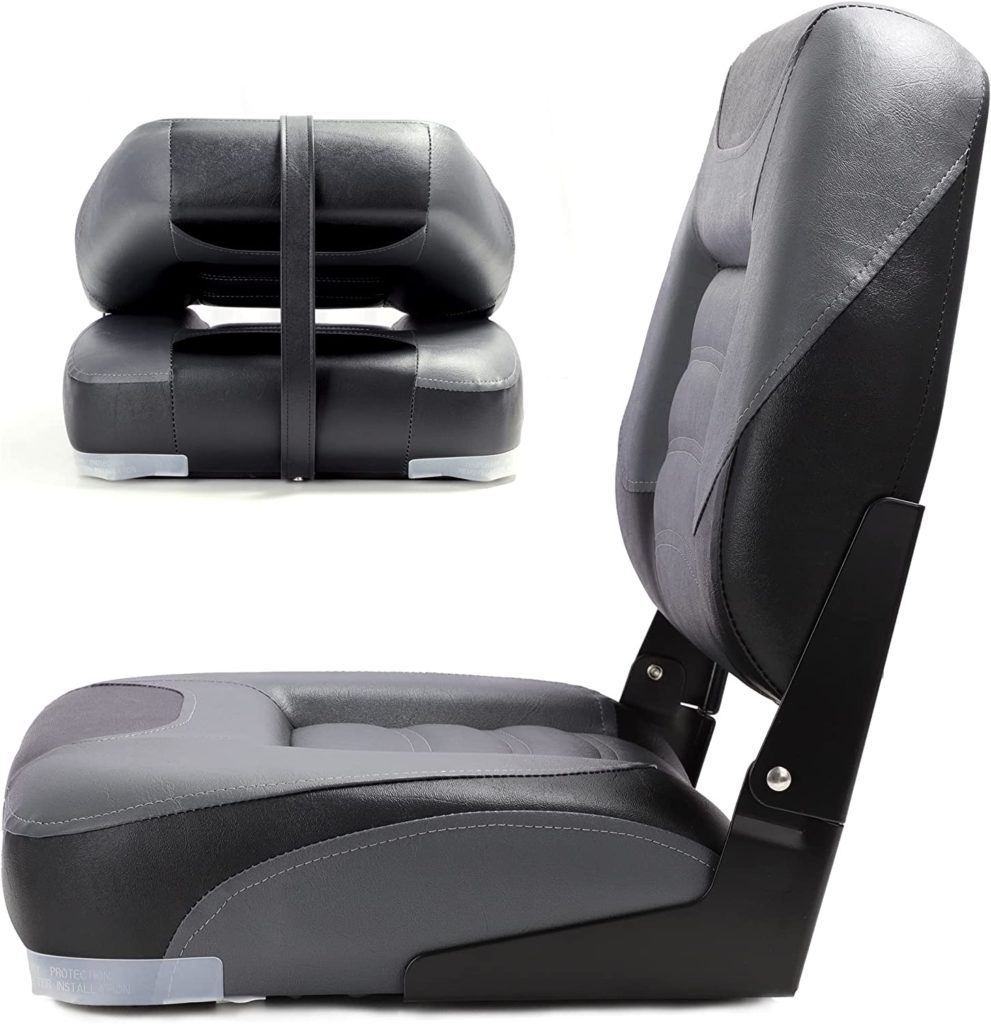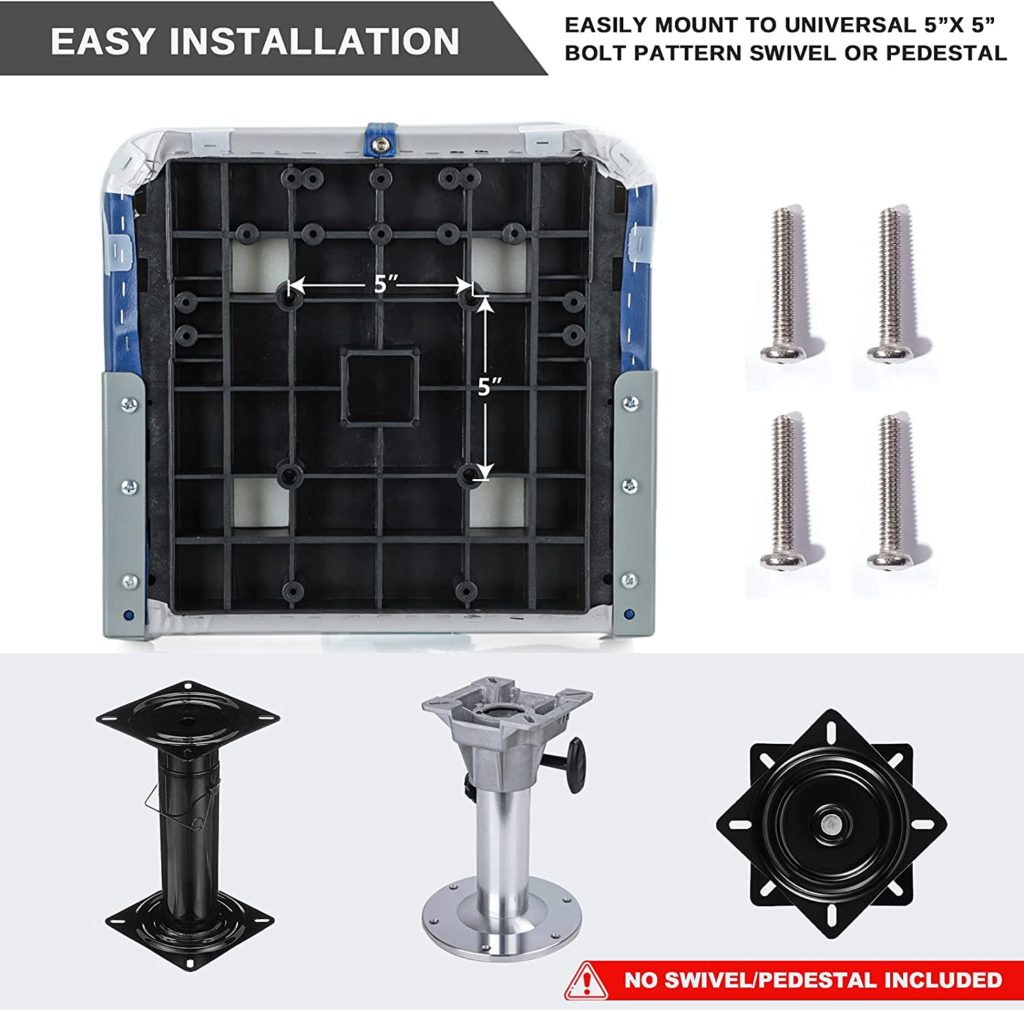 The NORTHCAPTAIN T1 Boat Seat is a must-have for any serious angler. This chair is a good choice to take with you on fishing or boating trips because it is strong and comfortable.
The seat is made of polypropylene plastic and is padded with foam. When you're not using the chair, the backrest can be folded up so it doesn't take up too much space in your storage area.
This boat seat is made from tough vinyl that will resist water and keep you safe. You can install it quickly with a standard 4-bolt swivel or pedestal (not included). Then you can relax and enjoy your ride down the river!
In comparison to other boat seats on the market, this one is lightweight and easy to transport. It is also comfortable enough to sit in for longer periods. The low-profile backrest ensures that you have a good view of the water and the fish below.
For the serious angler, I wholeheartedly recommend NORTHCAPTAIN T1 Deluxe Low Back Folding Boat Seat. Not only does it provide maximum comfort during your fishing trip, but its compact size also won't take up all of the space on your deck.
Plus, with a reliable vinyl and foam construction that can withstand harsh weather conditions; you never have to worry about ruining it in rain or snow. What's amazing about it? It's incredibly affordable – so don't miss out on this great value!
Pros
This seat is designed to be compact and easily folds away with a secure snap closure.
Featuring a comprehensive selection of bolt patterns and immense strength, this seat is undoubtedly built to last.
Catfishing enthusiasts, rejoice! This is the perfect seat for you.
Cons
These chairs are held in place by pins, preventing them from rotating.
---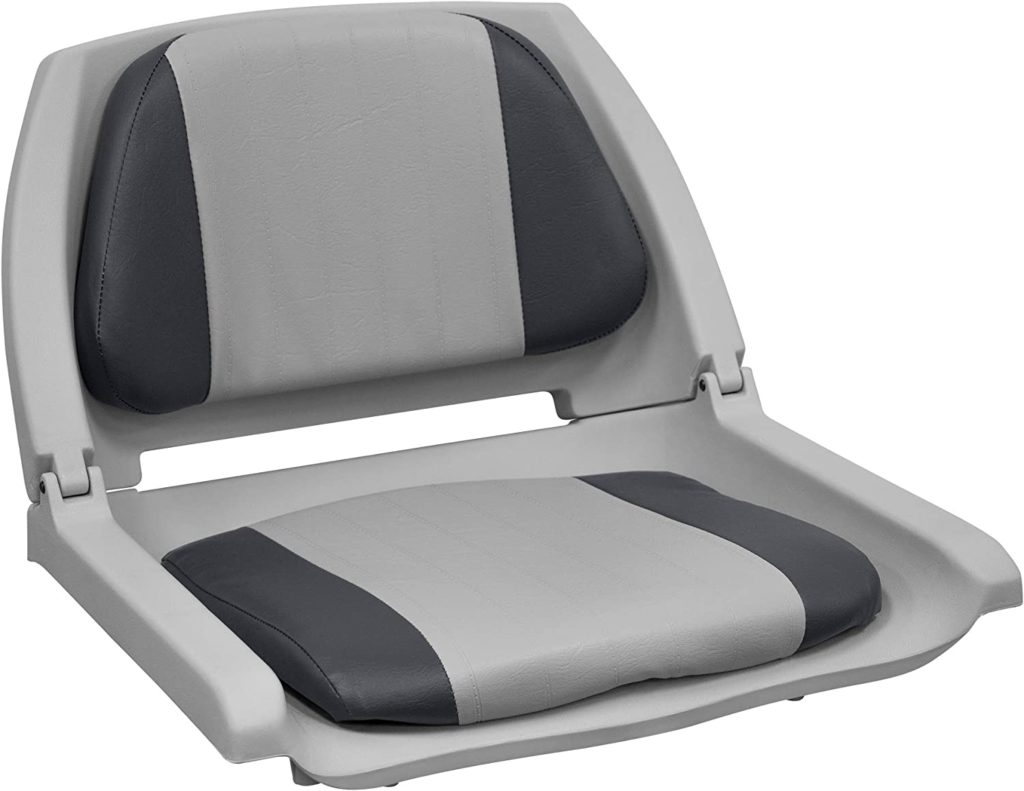 Get out of your boat and into the deep sea with the Wise 8WD139 Boat Seat with Marine Grade Cushion Pads. Attach it to any standard BIA 4 bolt / 5 1/4″ bolt pattern pedestal system and you're ready for a day of fishing.
This fishing boat seat features an injection-molded frame and firm high compression foam padding, ensuring maximum comfort while you explore the waters.
This marine-grade vinyl is 28 ounces strong, meaning it's prepared to handle sun, heat, rain, and soiling under normal conditions. Catch the big one with confidence in our top-of-the-line molded seating solution.
When compared with other boat seats on the market, this one is worth a look. It's lightweight yet offers an impressive weight capacity of up to 300 pounds. The best jon boat seats are the ones that give you the optimal balance between comfort and convenience and the greatest part about this seat is that it's designed for bass boats. The high-back design prevents any discomfort during long rides, making your adventure all the more enjoyable with extra support and comfort. If you're looking for one of the best bass boat seats, then the Wise 8WD139 Series is the ideal choice for you.
In my opinion, no outdoor adventure is complete without the Wise 8WD139 Series. Its robust design and superior comfort make it the perfect companion for any fishing mission.
Get ready to explore, catch, and enjoy your time out in the water! Plus, you know that when you have this seat, your time on the boat will be more comfortable and enjoyable.
Pros
Easy to install and remove when traveling.
Comfortable and durable made with marine-grade cushion pads.
For an unbeatable value, you can't go wrong with this top-of-the-line boat seat.
Cons
Tightening the wing nuts can be a tedious task, so proceed with patience.
It is not advised to leave these seats exposed all year round.
---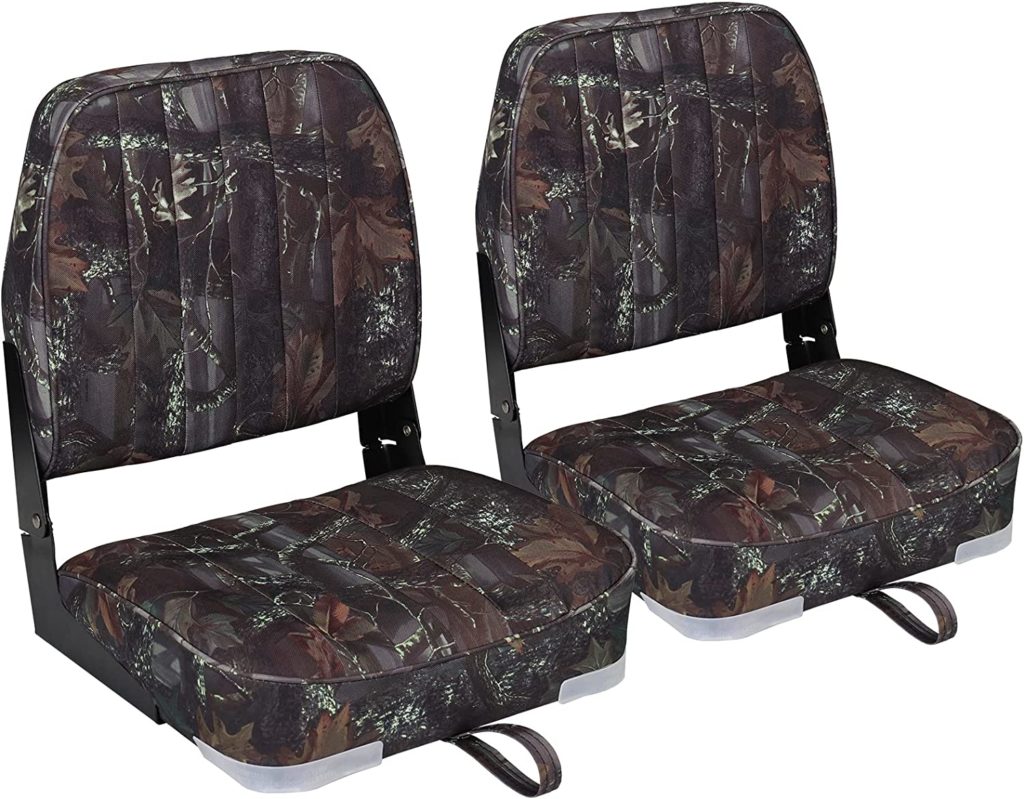 The Leader Accessories A Pair of New Low Back Folding Boat Seats are a must-have for any angler who is looking to add comfort, convenience, and style to their vessel.
Crafted with thick seats and back cushions, these seats offer incredible comfort while remaining supportive and resilient. The luxurious feel of the UV-treated marine-grade vinyl creates harmony between practicality and poise, lasting through all fishing adventures.
Additionally, the chair frames are made from a strong aluminum alloy and the seats are made from injection molded plastic. This means that the chairs will keep their shape and quality throughout use. With the low profile design of these boat seats by leader accessories, you can have comfort without sacrificing aesthetics.
Compared with other boat seat options, Leader Boat Seats provide more durability and longevity. They are also incredibly simple to install, as the folding mechanism allows for easy setup and breakdown.
These seats are perfect seats for wooden jon boat bench, so you can enjoy your fishing trip with ease.
I'm in love with these Leader Accessories New Low Back Boat Seats for their portability, ergonomic design, and adjustable height. They fold up nicely so I can take them along to other boats effortlessly – a huge plus!
Moreover, the smartly designed shape helps me reduce exhaustion while fishing for vast amounts of time as it keeps my posture healthy.
Pros
For the cost, this seat is an absolute bargain.
Installation is a breeze thanks to the included bolts, making it effortless and straightforward.
Offers comfortable height of seating.
Cons
Durable enough for frequent use, but not overly padded or plush.
This boat seat is not suitable for taller individuals as it does not have a higher backrest.
---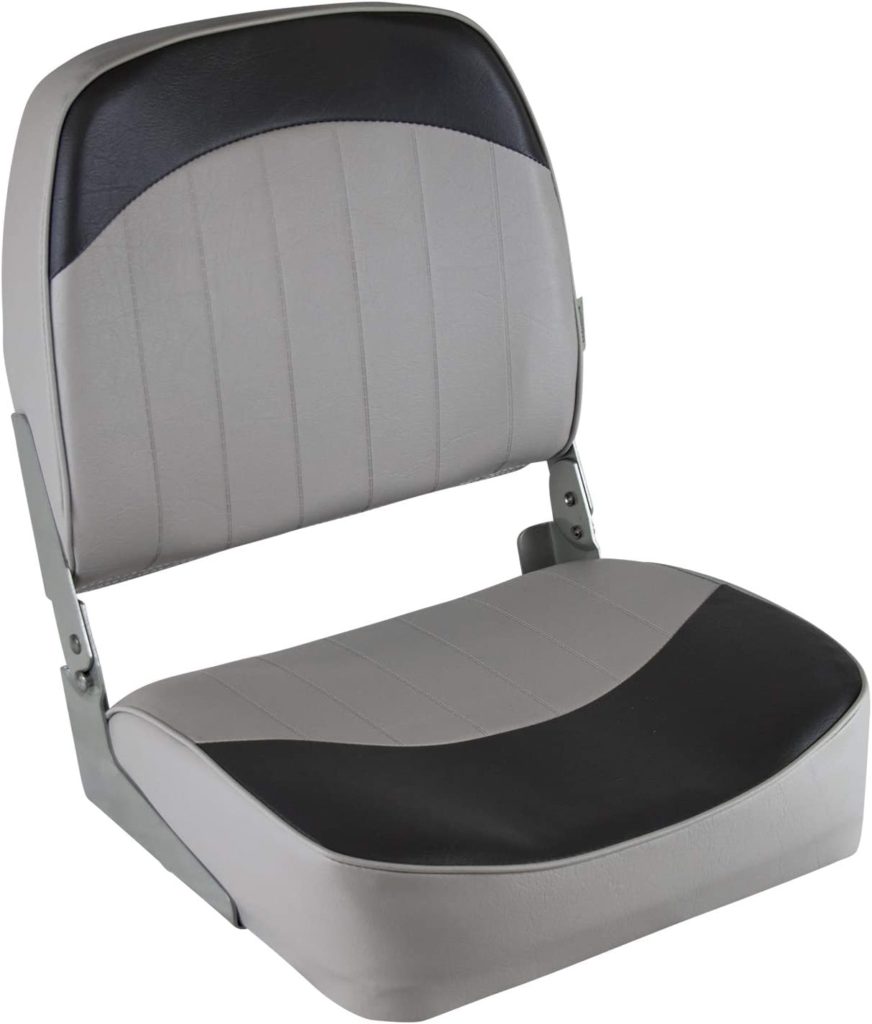 Experience ultimate comfort and style with the Wise 8WD734PLS-6664 Boat Seat. Constructed from durable, high-impact plastic and no-pinch aluminum hinges, this seat is built to last.
The heavy-duty 28 oz. marine grade vinyl resists the effects of sun, heat, rain, and soil for long-lasting protection. For added comfort and relaxation, it features padded compression foam throughout the seat frame. The embossed surface detailing makes this boating equipment look even more stylish.
This boat seat is far simpler to assemble than any other on the market. Even if you have no knowledge or experience, you can affix it onto your vessel's current frame in a short amount of time with ease.
I recommend this seat to anyone looking for an affordable and comfortable fishing boat seat that will last. It's the perfect combination of style and function!
Pros
t is good quality made and comfortable on a small budget.
Installing was a breeze – all holes lined up perfectly!
The height and back angle are adjustable, allowing you to customize the seat to fit your body size.
Cons
This seat is not suitable for elderly people as it does not provide enough stability when seated on a bench or bleacher.
---
FAQs
Why do I need a fishing boat seat?
As a fisherman, having the right seat is essential for your comfort and overall fishing experience. When you have a reliable boat seat, it allows you to remain in one spot without needing to move around or stand up too often.
This increases stability while on the water and can lead to better catches since it minimizes overwhelming water movement. With an excellent boat seat at hand, be prepared for some unforgettable angling adventures!
Are fishing boat seats waterproof?
Yes, these boat seats are typically waterproof. This is because they often have a special coating or fabric that helps to protect them from the elements such as water, UV rays, and mildew.
Additionally, some boat seat frames have anodized aluminum construction which provides additional protection against moisture damage. Marine-grade vinyl is often used for seat cushions which are also extremely durable and waterproof.
How to care for and maintain?
To keep your boat seat in top condition, it is important to take regular preventive maintenance steps. Make sure to clean the seat after every use with a mild soap and warm water solution.
Afterward, apply a quality marine-grade vinyl protectant to form an invisible barrier against UV rays and saltwater that can cause premature fading or cracking over time.
Check for loose fasteners on the frame that may have come undone due to vibrations from transport or use; replace them if necessary. Store your boat indoors during bad weather and away from direct sunlight when not in use as this will help further preserve its life.