If you're an enthusiastic fisherman, you know how fun it is to be out on the water. While fishing is often considered a relaxing activity, it often comes with neck and back pain. You don't have to suffer from chronic back pain to experience flare-ups after a fishing day; even the smallest waves can cause muscle strains. I'm suffering from disc hernia and my back has been bothering me in recent years so I started searching for the best boat seat for bad back that I could find.
Having the right boat seat makes all the difference. There are certain factors you need to consider before buying a seat for your boat that is not only comfortable but also offers good back support. Your body absorbs the motion caused even by the gentlest waves, so you need something that is able to absorb the shocks and protect your spine.
In this blog post, we'll talk about all those factors so that you can enjoy your time on the water, without worrying about your back.
Let's get started.
Our fav!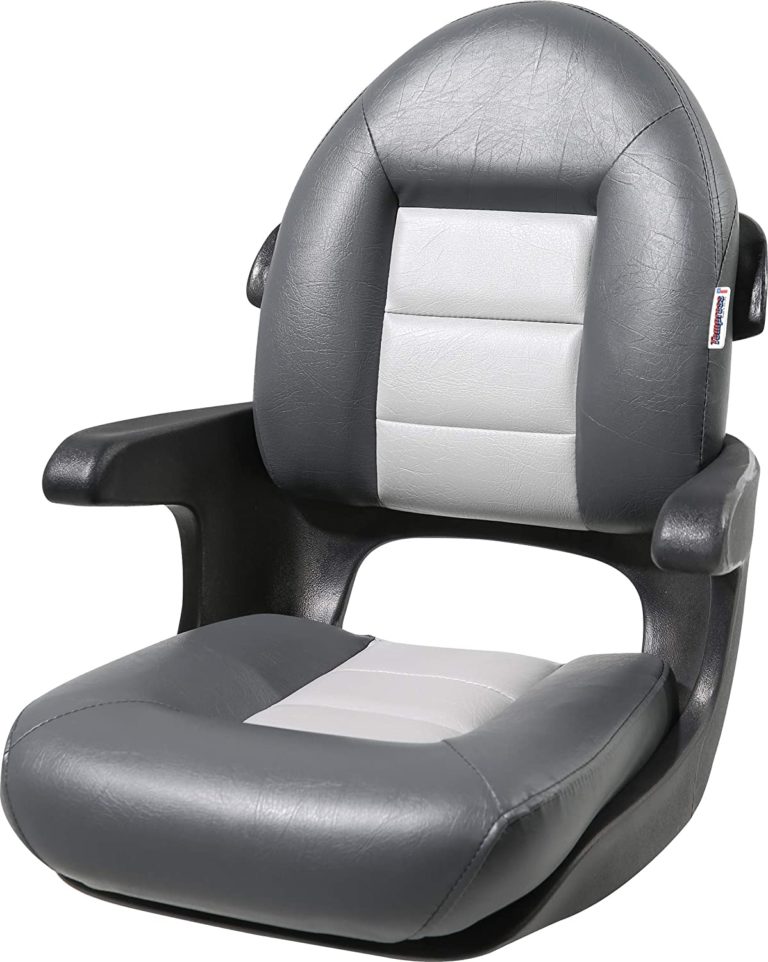 Tempress Elite High Back Helm Seat
Best boat seat for bad back
Overall, the Tempress Elite Helm Seat is one of the best boat seats for bad back. Although priced higher than any other option in the list, the durability and comfort it offers are unmatched.
Read the full review
.
What to look for when choosing a boat seat for bad back?
Spending hours on a boat, with poor lumbar or arm support, can really harm your spine. Thankfully, a comfortable boat seat is all you need to fully enjoy your fishing experience. You might be tempted to think that choosing the right seat for your back is only about the comfort level. In reality, the process of selecting a boat seat is quite similar to the process of selecting a mattress for your king size bed. And we all know that a soft mattress is not a good idea for people suffering from chronic back pain, don't we?
The comfort level of a boat seat is determined by factors like lumbar support, adjustability, arm support and shape/design.
1. Lumbar Support
Good lumbar support can help alleviate pressure and strain on your lower back. The result is better support for your back and higher comfort.
Normally, you'll find this feature listed on the product description page. Otherwise, check the quality of the cushion material to assess the lumbar support. You can also tell if a seat has lumbar support by paying attention to the back of the seat and checking if it has subtle curves.
Avoid cushions that degrade quickly and get one with high squishing resistance.
2. Adjustability
Being able to adjust the height, recline and angle of your boat seat can help you find the right level of support for your back.
Good adjustability can help you avoid sitting in one position for too long as it allows you to move your feet in different positions. I guess you often experienced foot numbness while boating. This is because sitting in the same position for a significant amount of time is tensioning the sciatic nerves in your legs. Meanwhile, if the seat is set too low, the pressure will be on the lower part of your body such as your hips and lower back.
3. Arm rest
And now that I mentioned foot numbness…what about arm numbness? Hard to believe but holding your arms in an uncomfortable position can cause serious injuries to your neck and shoulders. These pains are often related to the spine because these parts of our body are connected to the upper spine discs. The worst thing is that they appear out of nowhere and most of us don't even make the connection that they are caused by an uncomfortable arm position while fishing or boating.
Look for a seat that has arm rest so that you can support your arms while fishing or boating. It will help you reduce the load on your neck and shoulders, and will help your body finds its natural resting position even while fishing.
4. Shape/Design
A well-designed boat seat follows the natural curves of your back, providing adequate support and cushioning.
A contoured design helps distribute the body weight evenly and minimize pressure points.
The type of cushioning material impacts the seat's durability and comfort. From my experience, foam is often the best option as it conforms to your body and provides superior comfort.
The material used to cover the seat plays a primary role as it often determines its durability. The main role of the cover material is to protect the seat from moisture and harsh UV rays.
5. High Backs
People with a bad back are usually advised to use seats with high backs. The height of a high-backed seat provides additional support to your upper body.
As a result, you'll feel much better after a day out on the water.
Seats with small backs don't provide adequate back support so you'd better avoid them. At first sight, they might seem to provide more space for movement. Your upper back needs just as much support as your lower back. So, make sure the boat seat offers complete support to your back.
6. Proper Sizing
Size is one of the most important yet overlooked features of a boat seat. Make sure you're getting a boat seat that fits your body.
You don't want to squirm around and keep shifting your position because the seat is too small.
On the flip side, a boat seat that's too big for your physique might make you slouch and put you in an awkward position. Slouching can make your back problems worse.
It puts unnecessary pressure on your back muscles and spine, which can increase your back pain.
So, getting a boat seat that fits your size and doesn't make you slouch is super important.
Best boat seats for bad back – Top 3 picks
For outdoor enthusiasts, spending their free time fishing and boating bring a lot of relaxation and disconnection from day to day tasks. An important part of this journey is also played by the comfort provided by the boat seat. And if you have a bad back, then you know that you can't really recharge yourself without actually feeling comfortable while practicing your fav outdoor activity.
That for, we've come up with a detailed review of best boat seats for bad back available out there. Our 3 top picks are as follows:
Tempress Elite High Back Helm Seat – Best Overall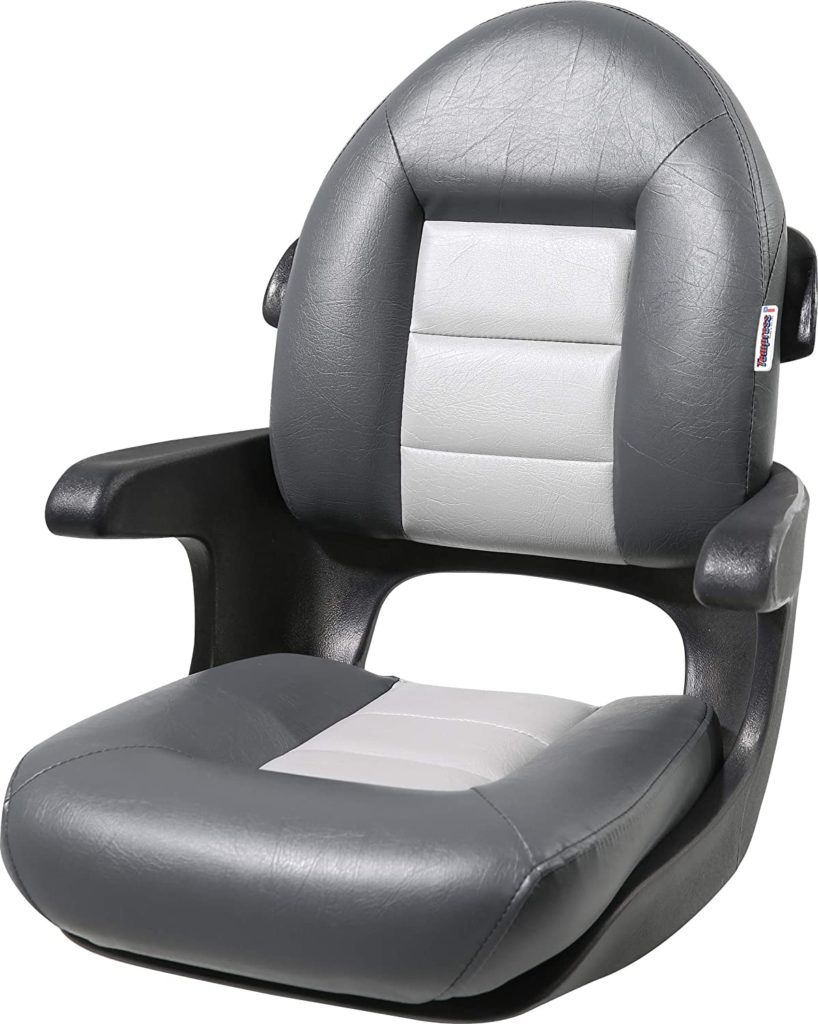 Built from sturdy materials that will timelessly withstand the harshness of the sea, this seat offers both durability and quality. It is made from 28-30 oz marine grade vinyl, which not only offers UV resistance for long hours but also keeps it safe from salt exposure.
The Tempress Elite features thick padding with contoured StylePanels to offer you an ergonomic and comfortable seating space. It also comes with lumbar support to relieve your upper, mid, and lower back. The rolled front edge also gives comfort to your lower body.
As for the installation, you can use a simple hand drill to mount this seat. It can be installed on a fixed base, a swivel base, a slider mount, or even a pedestal base. However, it doesn't come with lock washers and steel fasteners.
Overall, the Tempress Elite Helm Seat is one of the best boat seats for bad back. Although priced higher than any other option in the list, the durability and comfort it offers are unmatched. 
Pros
Built-in lumbar support and armrests
Durable materials to withstand water and salt exposure
Ergonomic design for back support
Easy installation
Cons
Doesn't come with steel fasteners and lock washers
---
NESHULT Deluxe Captain Boat Seat with Arm Rest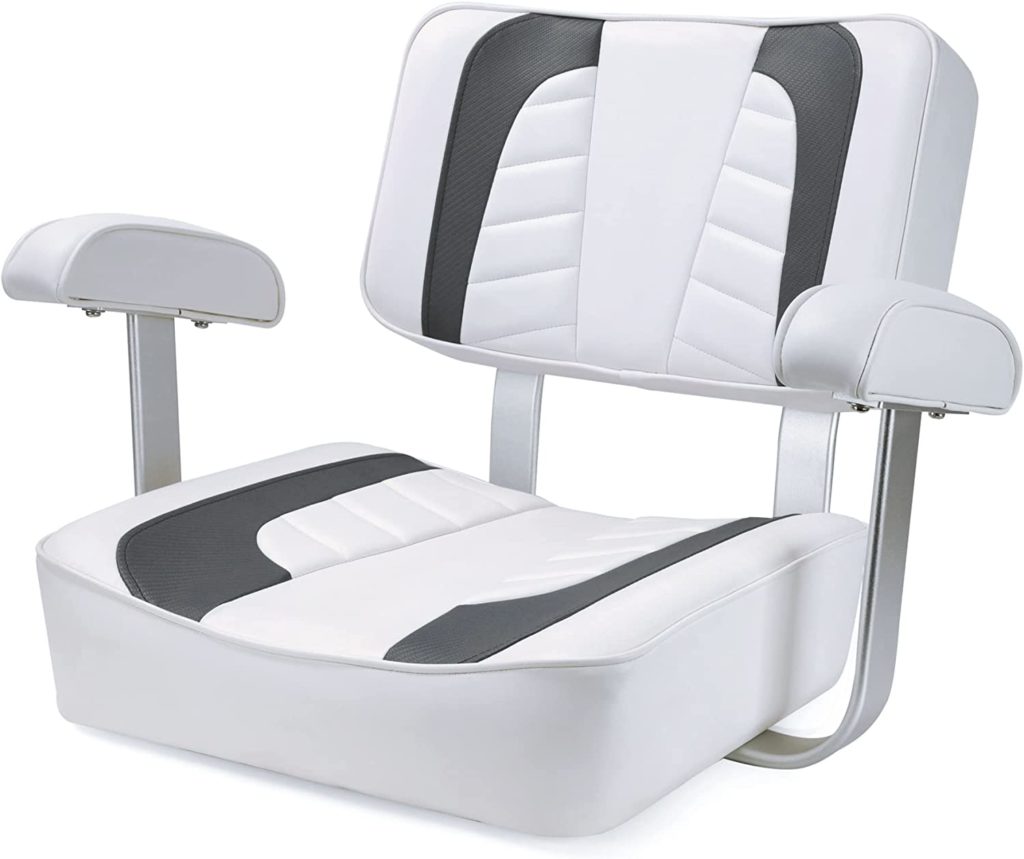 Manufactured by NESHULT, a leading marine products company, the Deluxe Captain Boat Seat with Arm Rest is one of the highest-rated seats in this category.
The Deluxe Captain Seat is made from 28 oz marine-grade vinyl which is really easy to clean and maintain. This material also offers durability and long life in harsh marine environments.
In terms of comfort, the Deluxe Captain Seat has an ergonomic design with heavy padding that offers comfort for your back. The padded armrests included in the model also make this seat ideal for a captain as you can rest your arms when not captaining the boat.
However, unlike the Tempress Elite High Back Helm Seat, it does not come with lumbar support. So you may feel a little uncomfortable in your lower back area.
In terms of installation, the NESHULT Deluxe Captain Seat can be installed on any standard 4-bolt pedestal or swivel base. It is easy to install and also comes with stainless screws to mount it with.
In conclusion, the NESHULT Deluxe Seat is a great option if you are looking for a captain seat with armrests. It's comfortable, durable, and reliable. However, it would have really helped if this model came with lumbar support.
Pros
Marine-grade vinyl material that offers durability
Thick padding and ergonomic design for comfort
Quick installation with stainless screws included
Cons
No built-in lumbar support
---
Tempress ProBax Orthopedic Folding High Back Boat Seat – Best Budget Seat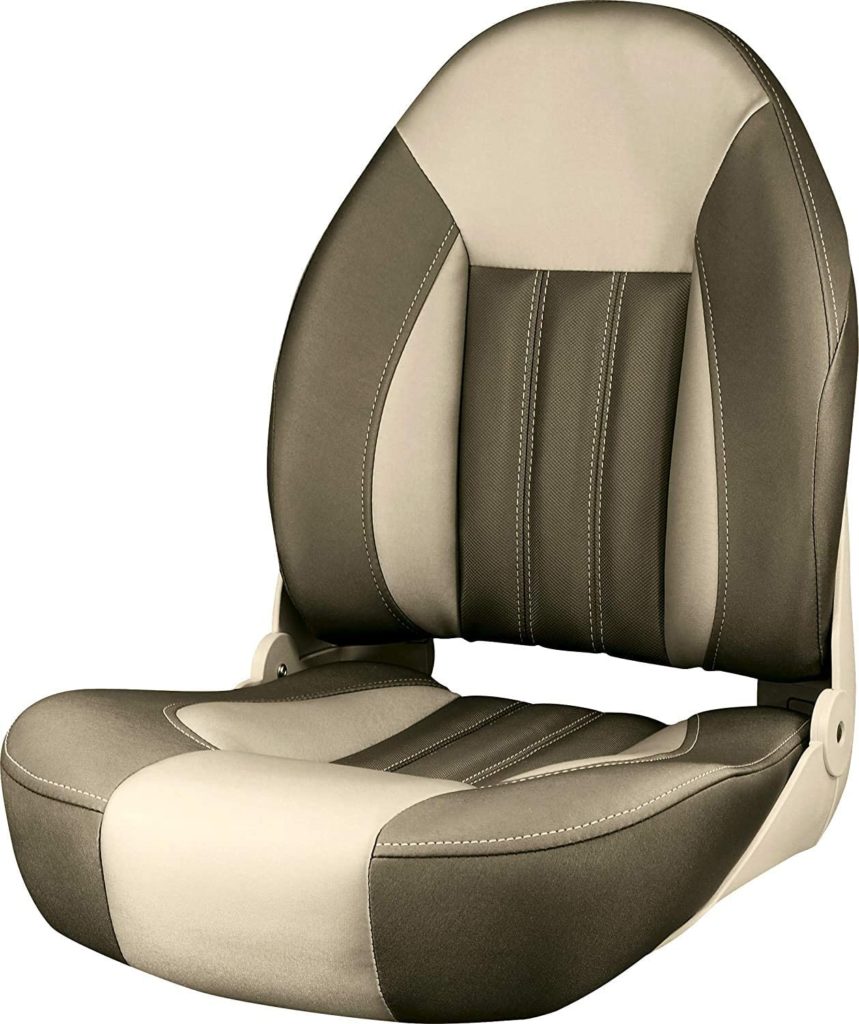 The Tempress ProBax Orthopedic Folding High Back Boat Seat is the most budget-friendly option in this list. Made by the same manufacturer as the Tempress Elite High Back Helm Seat, this is a specialized orthopedic seat that has been manufactured with the help of spinal surgeons and ergonomic exports.
Made from water-resistant 30 oz marine-grade vinyl, this seat will leave behind all the harsh elements of the sea and will stand the test of time. It can also fight off UV rays and abrasion, thanks to its sturdy polyester thread.
In terms of comfort, the Tempress ProBax is the only boat seat that has been proven to offer the best support and comfort for your back and upper body. It features a back dual-core foam and a patented base that is only offered by Tempress currently. You can fish all day on your boat while feeling like you are in the comfort of your home.
The ProBax seat can be mounted on any 5-¼" pedestal or mounting system. It is really easy to install and also comes with the stainless steel mounting hardware and Loctite patch required to install it.
Overall, the Tempress Pro is one of the most budget-friendly, durable, and comfortable boat seats that are designed with the help of spinal surgeons. However, their water resistance does not really work. They are known to stay wet for long hours.
Pros
Complies with the highest safety standards in boating
Made with spinal surgeons to offer clinically proven support
Ideal for people with backaches
Quick installation with stainless screws included
Cons
Poor water resistance that can keep the seats wet for long hours
Can get water spots and stains